Music Teachers National Association Grant
Tuesday, June 21, 2022 by Elena Papavero | Professional Development


Welcome to Pianorama!
MTNA (Music Teacher's National Association) offers a Teacher Enrichment Grant which can be awarded for up to $750 for professional study, whether it be private study, college-level course work, or anything that contributes to the development and enhancement of teaching and/or performing skills.
I'm thrilled to have been awarded the grant for 2022-2023 and look forward to continued and intensive study with Professor Brian Gilmore!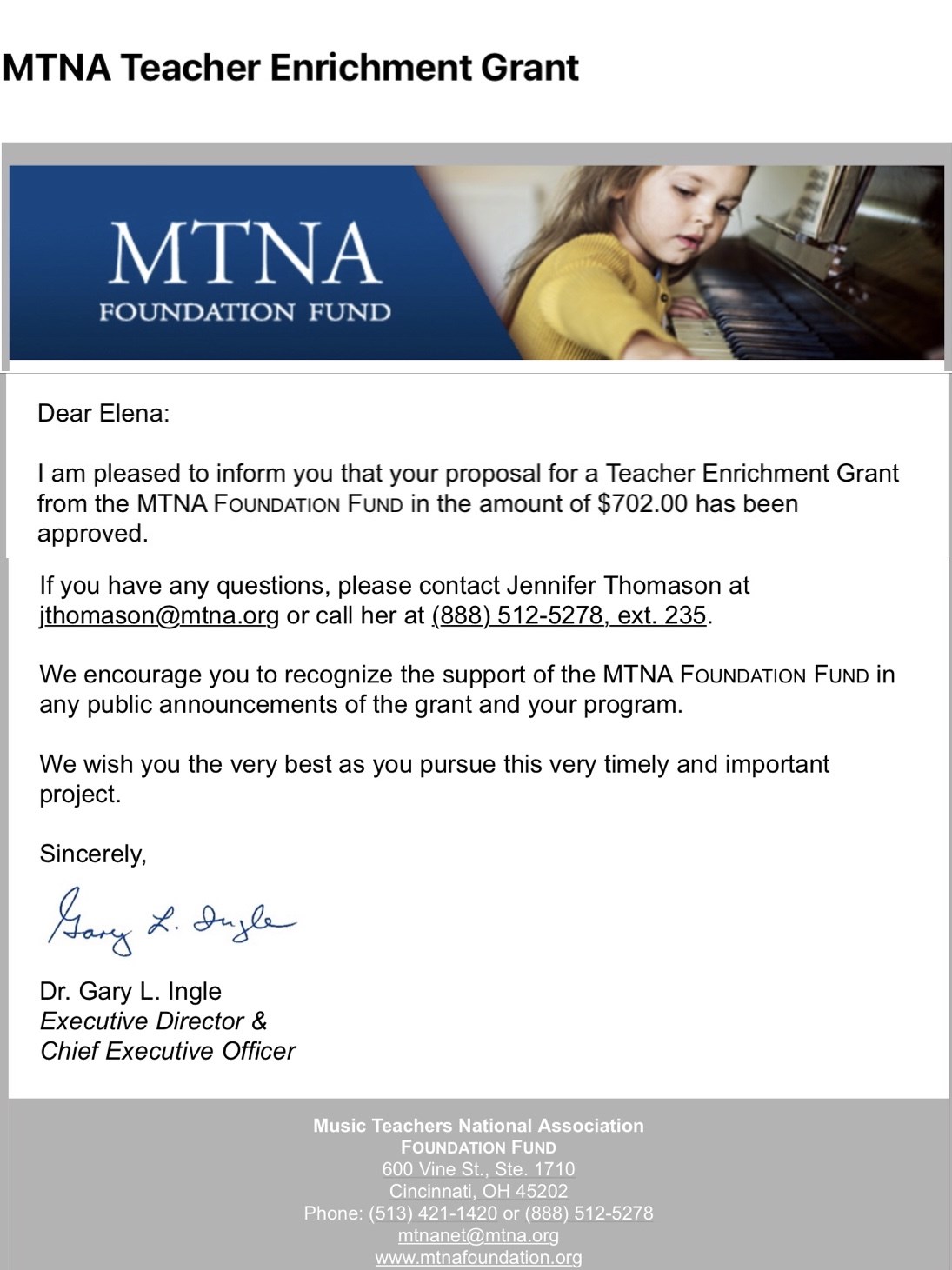 Why 45-Minute Lessons?
Friday, May 20, 2022 by Elena Papavero | Lessons

Welcome to Pianorama!
I offer lessons at a minimum of 45 minutes, regardless of age.
This allows for a well-rounded music education.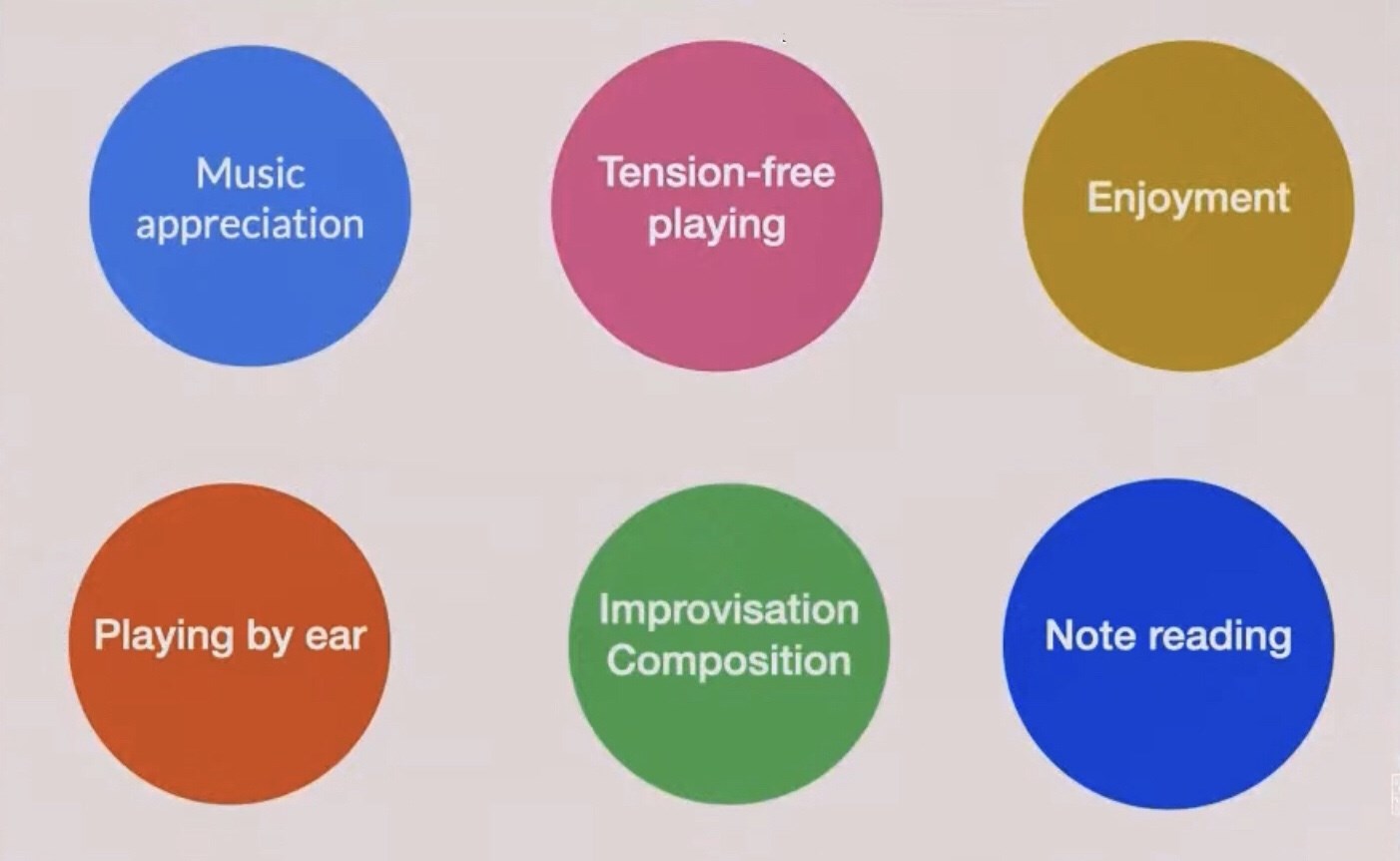 Much can be accomplished during a typical 45-minute lesson plan.
5 minutes: Warm-Up
Scales, arpeggios, chords played in different ways
Technique - developing finger strength and dexterity
Interactive learning (flash cards, games, etc.)
15 minutes: Review
Play the prepared lesson and set new goals for any part of the music that will be continued into the next week of practicing (usually 2-3 pieces)
Work on any issues to move the lesson forward
Play duet sections with the prepared pieces
20 minutes: New Material or Theory
Introduce new music and/or new section of current pieces
Have student listen to and read through new pieces
Analyze the written part of piece (theory) and music history about composer and style
Improvise or compose for fun and theory discovery
5 minutes: Wrap Up
Discuss progress and reward student
Detail goals for the coming week
For young students, 45 minutes allows time for off-the-bench activities. The lesson plan would look different, but would be very full. Repetitive games and physical activities are vital for keeping the lesson pace moving and giving the diverse experiences that match the sense of play and shorter attention spans of young learners.
Note that a 45-minute lesson can go quickly and may not be sufficient for repertoire beyond the second year and recital program preparation.
60-minute lessons bring a huge improvement. I strongly encourage longer lesson times, especially for fourth-level students or students who lack the time to practice and integrate the lesson material.
My teaching philosophy gives more lesson details.
Piano Safari
Wednesday, January 25, 2023 by Elena Papavero | Piano Methods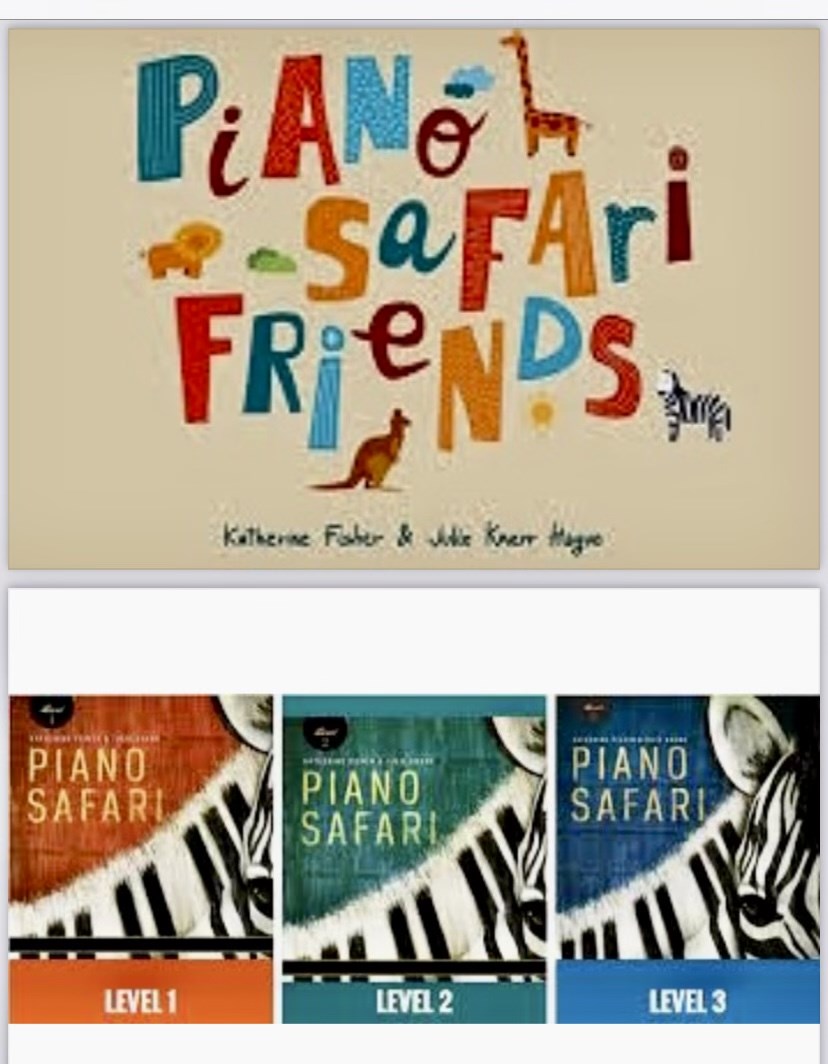 I now offer a wonderful program for children called Piano Safari.
My students enjoy their lessons so much that they can't wait to come back!
Piano Safari Offers:
* A carefully sequenced, intervallic approach for learning to read music notation
* Patterned pieces taught by rote that provide engaging music for students from the first lesson
* Animal themed Technique Exercises that teach the basic motions of piano techniqueImprovisation ideas for developing creativity
* A holistic approach combining ears, eyes, and imagination that allows children to become musically literate at the piano.
Contact me today to give your child the gift of music.